Last election Dublin 2014
On 11 September 2014, at the General Assembly held in Dublin Castle, Ireland, the members voted by secret ballot for two Vice Presidents. The Council member was elected by acclamation.

The IAC is very happy to introduce the two Vice Presidents and the Council member for China who begin a term of 6 years. We thank them for their commitment and for their past and future efforts.
Torbjørn Kvasbø
| | |
| --- | --- |
| Vice President 2014-2020 I have been member of the IAC since 1990, and Council member since 2004. I am born in 1953, in Norway. I have worked as an individual maker in my own studio since 1978 until now. I have been professor and Head of Ceramic Departement at HDK, Gothenburg University, Sweden from 1996-2000 and professor and Head of Ceramic and Glass Departement at Konstfack, Stockholm, Sweden from 2000-2008. If IAC is to continue, and want to be useful and relevant , we must work harder to expand our network, find ways to increase the number of members and strengthen our financial muscles. It is interesting, and difficult, to find efficient ways of working together in an organisation with members from 53 countries, from all continents. The Council has members from 5 continents.   | I want to continue to work for the IAC, trying to expand the organisation to be useful and relevant to ceramic artists worldwide. We need first of all to become a natural and more useful tool for young ceramic artists, worldwide. |
Judith Schwartz
Vice president 2014-2020

While I have been a member of the IAC for more than 30 years.

I am passionate about advancing the stature of the IAC and, I will offer fresh ideas to establish IAC's preeminence. I have had years of experience with arts and ceramic organizations, successfully advancing their missions. I am known to work congenially, creating a climate for change, yet willing to ask the hard questions and do the work necessary to implement those changes.

Here are just a few of my promises:

First, to create more of a global presence I intend to actively search out new members from underrepresented countries. In fact, I began this personal mission in January 2014, spending a month in India lecturing, but also visiting various ceramic centers, schools and studios and meeting with highly skilled and imaginative ceramic artists.

Secondly, I want to create a variety of member sub-committees to organize international travelling exhibitions, create a speakers/workshop bureau, actively pursue grants for special events and various projects that will engage us all and not just biannually.

The IAC is a uniquely positioned organization that I am proud and honored to be a member of. It has brought out the best in me and has broadened my perspective and awareness of my colleagues from around the world. I want to bank on this unique opportunity and keep it going for many years into the future.
Guangzhen Po Zhou
Council member for China 2014-2020

An artist, writer, curator, and ceramic cultural liaison

I was born in Shanghai, China. In 1989, I received a scholarship and went to the United States for my MFA in ceramic art. Currently living in Shanghai and San Jose California, I am the guest professor of several universities in China. In the past over 20 years, I have published more than 100 papers on Chinese art magazines and four books, and I serve as editorial advisor for five magazines. I have curated numerous of exhibitions in China, the United States and the United Arab Emirates. I have organized and participated in variety of ceramic cultural exchanges and events, and have made connections and networks in the ceramic field both domestically and aboard. I invited more than 200 Chinese ceramic professionals visited the United States for exchanges, at the same time, I was invited for slides lectures in China at more than 20 schools and ceramic art events.

The council member of IAC is not just an honor or a title, but the most important aspect is the responsibility and challenge, a historical mission. I will work with all of the IAC members based on the regulations of the IAC. I will listen to different voices from different groups and different areas, actively contact both the Chinese communities of the ceramic educators from the schools and ceramic craftsmen at the ceramic production cities, encourage Chinese ceramic artists to participate in international activities and the community, and promote common development of the world's ceramic culture.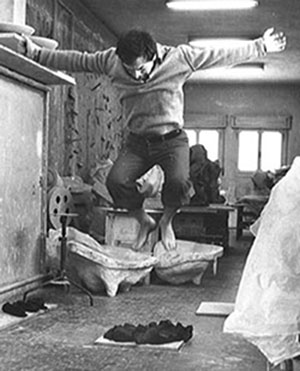 The International Academy of Ceramics is the principal organisation representing the interests of ceramists worldwide.
(read more...)