Shabanali Ghorbani
« Persian Sculptural Ceramics History and Design: from Prehistoric to Contemporary »

ABSTRACT

Persian sculptural ceramics has a long and productive history. Through the centuries, Persian potters have responded to the demands and changes brought by sociopolitical turmoil by adopting and refining newly introduced forms and blending them into their own culture. This innovative attitude has survived through time and influenced many other cultures around the world. The Islamic prohibition on using human figures and animal forms not only could not stop the long tradition of producing ceramic sculptures but also generated new styles of making mixed functional and conceptual objects with clay with most delicate and fine design in accordance the new vision and ideology. Contemporary sculptural ceramics today inherits this long history and uses its rich and diverse culture as source of inspiration.

This lecture describes the old and long history of sculptural ceramics through Iran's art history from prehistoric to the contemporary and meanwhile introduces examples from pre-Islamic period alongside with Islamic continuation of sculptural ceramics. Also will provide several examples of contemporary ceramic sculptors and discusses  their style and source of inspiration; a primitive, a classic and a modern ceramic sculptor to explain the common current of the field in Iran to day. Finally describes writers own recent experimental sculptural ceramics as part of his doctoral research and its outcome.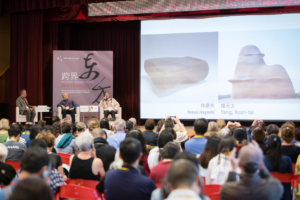 Cette page web est axée sur le thème général de «Nouvelle Orientalia - Fonctionnalité, Spiritualité, Diversité».
(lire la suite...)