Chiang Shu-Ling
"The Ceramics Generations: The Path of Taiwanese Ceramic Development"

ABSTRACT

When one talks about the development of local ceramics, s/he usually refers to the Chinese Taipei-Japan ceramic exhibition in 1981 that was a significant milestone for the island. Before this event, the ceramic environment was highly influenced by the legacy style due to the Japanese colonization and the Chinese style which ceramicists brought with them as they flew from continental China. Only a minority of artists who were exposed to the West began developing their own unique style.

After 1980, the island became a more pluralistic environment with more oversea returnees indulging themselves into art education and injecting western influences, which took local contemporary ceramics to another level. The exhibition will display different generations of ceramic artworks, inviting viewers to explore the different dimensions of local ceramics.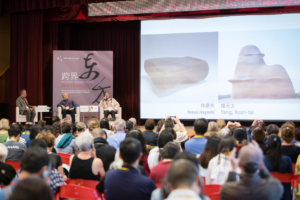 This webpage is focused on the general theme of « New Orientalia – Functionality, Spirituality, Diversity ».
(read more...)