Sara Moorhouse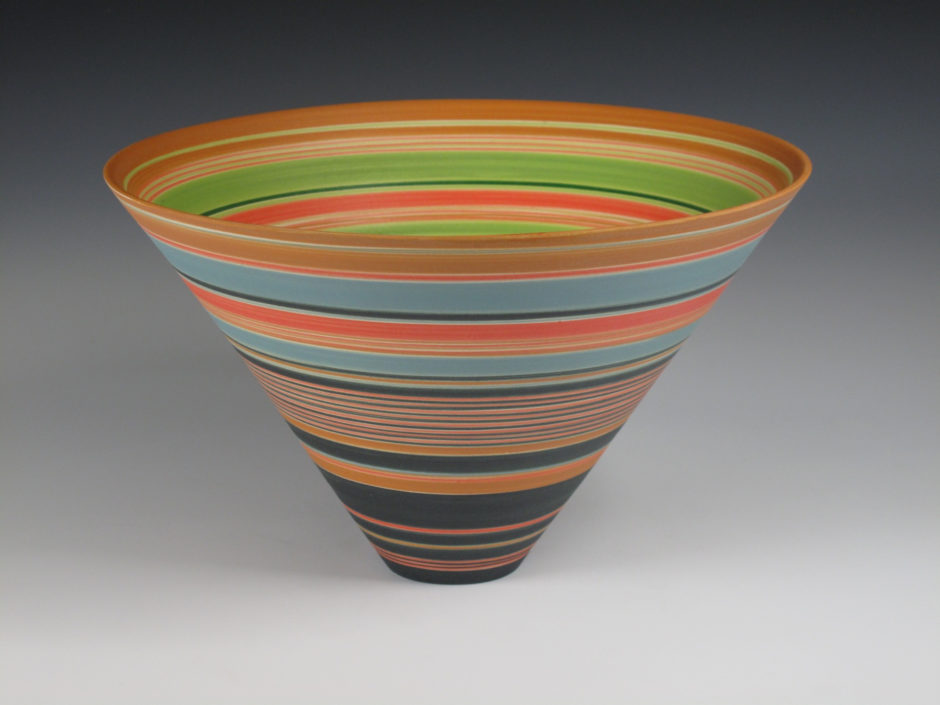 Having grown up amongst the arable landscapes of North Nottinghamshire, England, I have always been fascinated by colour and line and the way these alter the perception of form and space.
In 2003 I undertook an MA in ceramics in Cardiff, Wales, where the notion of colour and space formed the foundation for my practice. I found that colour can alter the way a shape is perceived, making it appear shallower, deeper, narrower or wider; the application of finer lines giving the appearance of vibration and movement.
I continued my studies into the theory, science and psychology of colour by undertaking a PhD, which I completed in 2010. During this time I deepened my understanding of colour and how it affects the world around us, guiding our physical movements, how we perceive space, what we buy and how we feel. I also found illusions specifically related to and perceptible on the bowl form. One of these I called the Tilt Effect, an illusion which occurs at the juncture of 2 wide bands of colour on the interior surface of a conical bowl shape, where the upper band appears to tilt backwards.
My everyday interactions with colour continue to inspire and inform my practice. The seemingly limitless colour combinations I find in landscape, and the nuances of experience perceptible in nature remain the key focus to my work. It feels like my explorations into colour and form, and the possible effects, are endless.
Info